Theme

My research interest is to elucidate the molecular and genetic neural mechanisms underlying vocal learning and the evolution, including linguistic communication of humans. For these purpose, our laboratory has been studying the song learning of songbirds as a model system.

Field

Neuroscience,

Molecular biology,

Behavioral genetics,

Neuroethology

Keyword

vocal learning,

species-specific behavior,

gene expression,

epigenetics,

hybrid,

critical period,

evolution of behavior,

songbird,

language,

transcriptome
Introduction of Research
One of our research interests is to elucidate the evolution of vocal learning and vocal phenotype accompanied by advantageous gene evolution at transcriptional regulatory divergency that control species-specific regulation of genes. We are also focusing on the singing-induced genes which regulate neural plasticity during the critical period of vocal learning. Behavioral, developmental, and area-specific gene expressions should be regulated by various combinations of transcription factors via epigenetic modifications, such as histone modifications and DNA methylation. Individual experiences and surrounding environments on their life should leave epigenetic codes on their genomic DNA, which are also ruled by the species-specific genome sequences, including species-specific regulatory elements for gene expressions. Thus, I believe that the study of these transcriptional regulation mechanisms in songbirds will be significantly beneficial to elucidate molecular and genetic mechanisms underlying the critical periods for learning, individual behavior difference and species-specific behaviors.
Songbirds provide an ideal neuroethological model system. Their singing behavior can be easily observed, quantified, and described as shown above. The behavior is controlled by a discrete neural network, which causes production and learning of vocalizations, and has analogies to human speech. With these advantages, in-vivo gene manipulation techniques allow to investigate the functions of genes for developmental and species-specific behaviors using. Thus, the songbird will be a great candidate for future research in these areas to investigate at the individuality of learned behavior.
Songbirds also have the potential for studying human communication disorders, such as aphasia and stuttering. With the genomic information of the songbird, various studies using songbirds will be able to provide much more useful information in terms of utilizing songbird data for the elucidation of biological mechanisms of other organisms, including human.
Representative Achievements
Corticobasal ganglia projecting neurons are required for juvenile vocal learning but not for adult vocal plasticity in songbirds.
Sánchez-Valpuesta M, Suzuki Y, Shibata Y, Toji N, Ji Y, Afrin N, Asogwa CN, Kojima I, Mizuguchi D, Kojima S, Okanoya K, Okado H, Kobayashi K, Wada K.
PNAS 116:22833-22843. 2019
Transcriptional regulatory divergence underpinning species-specific learned vocalization in songbirds.
Wang H, Sawai A, Toji N, Sugioka R, Shibata Y, Suzuki Y, Ji Y, Hayase S, Akama S, Sese J, Wada K.
PLoS Biology 17:e3000476. 2019
Vocal practice regulates singing activity-dependent genes underlying age-independent vocal learning in songbirds.
Hayase S, Wang H, Ohgushi E, Kobayashi M, Mori C, Horita H, Mineta K, Liu WC, Wada K.
PLoS Biology 16:e2006537. 2018
Inter- and intra-specific differences in muscarinic acetylcholine receptor expression in the neural pathways for vocal learning in songbirds.
Asogwa NC, Mori C, Sánchez-Valpuesta M, Hayase S, Wada K.
Journal of Comparative Neurology 526:2856-2869. 2018
Audition-Independent Vocal Crystallization Associated with Intrinsic Developmental Gene Expression Dynamics.
Mori C, Wada K.
Journal of Neuroscience 35:878-889. 2015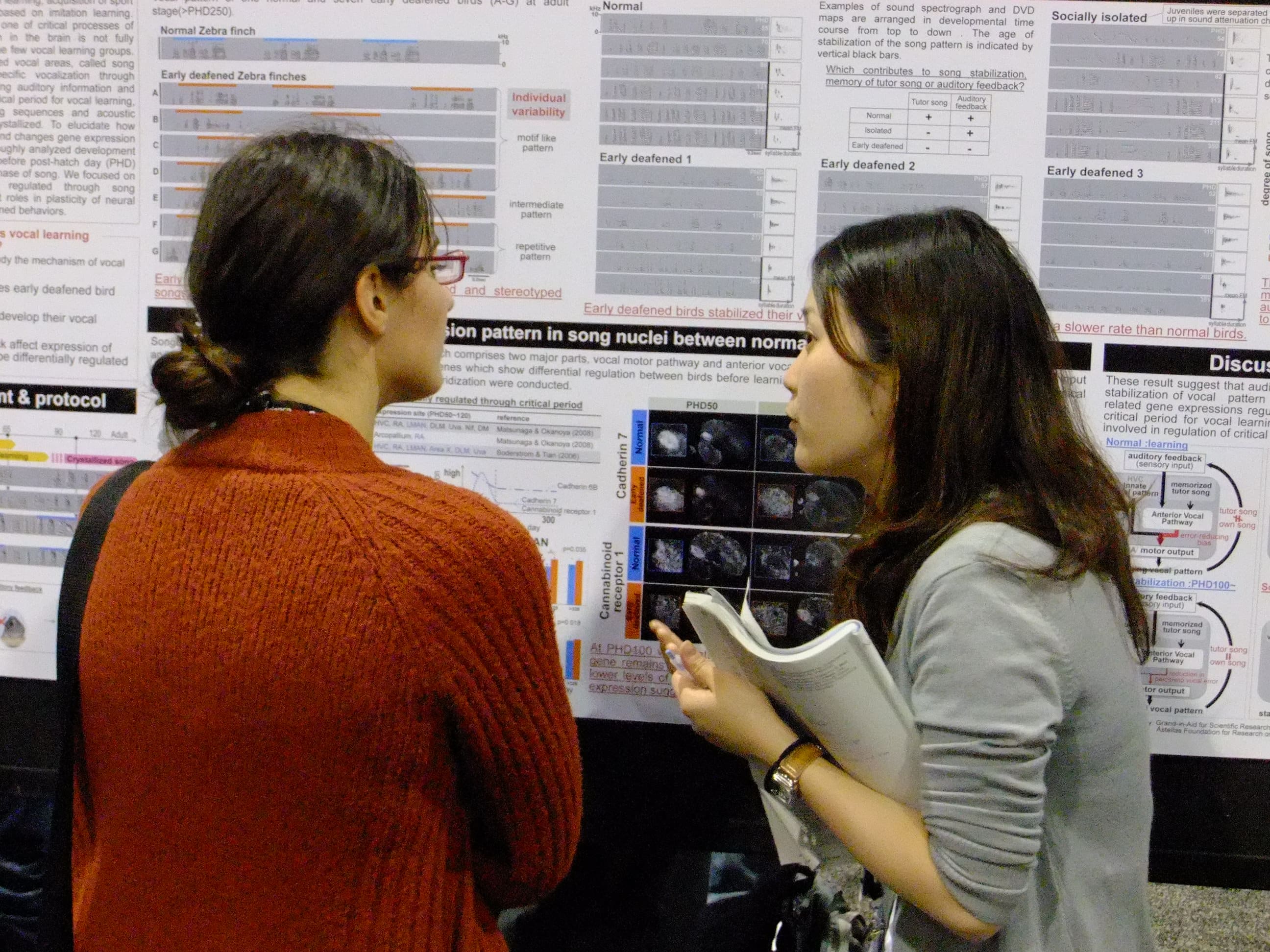 Academic degree

MD. PhD.

Academic background
M.D. 1993-1998 Kanazawa University, School of Medicine, Japan;
Ph.D. 1998-2005 Studied Biochemistry and Neurobiology, Tokyo Medical and Dental University, Tokyo, Japan;
2002-2007 Research Associate (postdoctoral fellow) at Department of Neurobiology, Duke University
Medical Center (NC, USA)
2007- Associate professor at Fculty of Scienc, Hokkaio University
Affiliated academic society

Society for Neuroscience (USA),

The Japan Neuroscience Society,

The Molecular Biology Society of Japan,

The Zoological Society of Japan

Notes

I always welcome ambitious young people (students) who want to be a professional scientist to do pioneering work which will lead to a new biological field. If you have similar mind, join in our laboratory!