Theme

Study of cloud, aerosol, aerosol-cloud interaction, and lightning using numerical simulation, and development of numerical weather/climate models

Field

Meteorology,

Cloud microphysics

Keyword

Aerosol cloud interaction,

Global cloud system resolving model,

Large Eddy Simulation,

Numerical weather/climate model,

Bulk lightning model
Introduction of Research
My research field is meteorology, especially cloud, aerosol, lightning, and their effect on the human life. I'm researching them using the numerical simulation. During my research activity, I have experience using super computer like K computer and Fugaku, Earth Simulator, and so on. As well as the aerosol, cloud and lightning, I have been contributing the research project targeting on the radionuclide emitted from nuclear power plant to atmosphere using the numerical simulation.
Development of the numerical weather/climate model is also my research topic.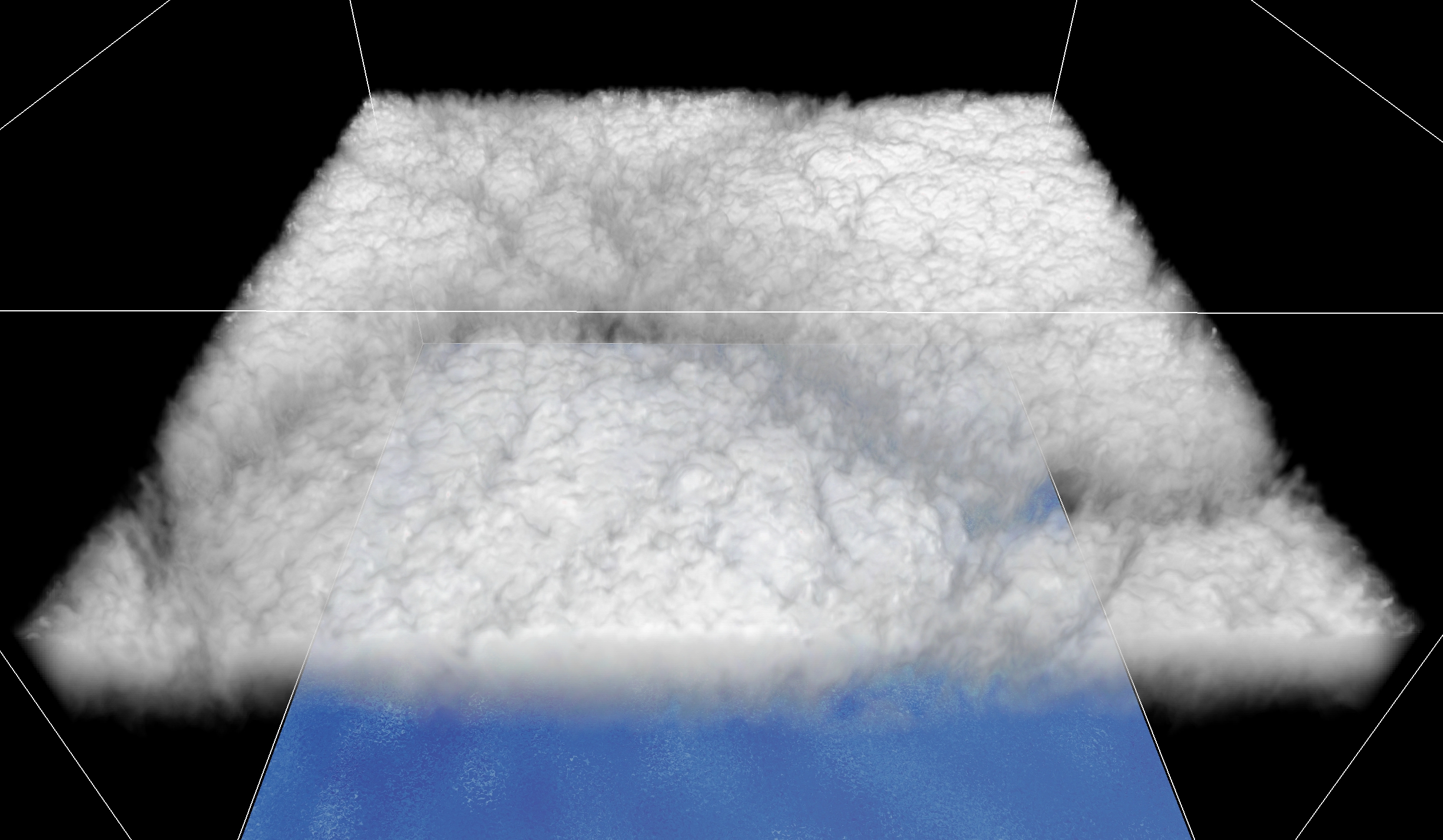 Stratocumulus simulated by a numerical weather model on K computer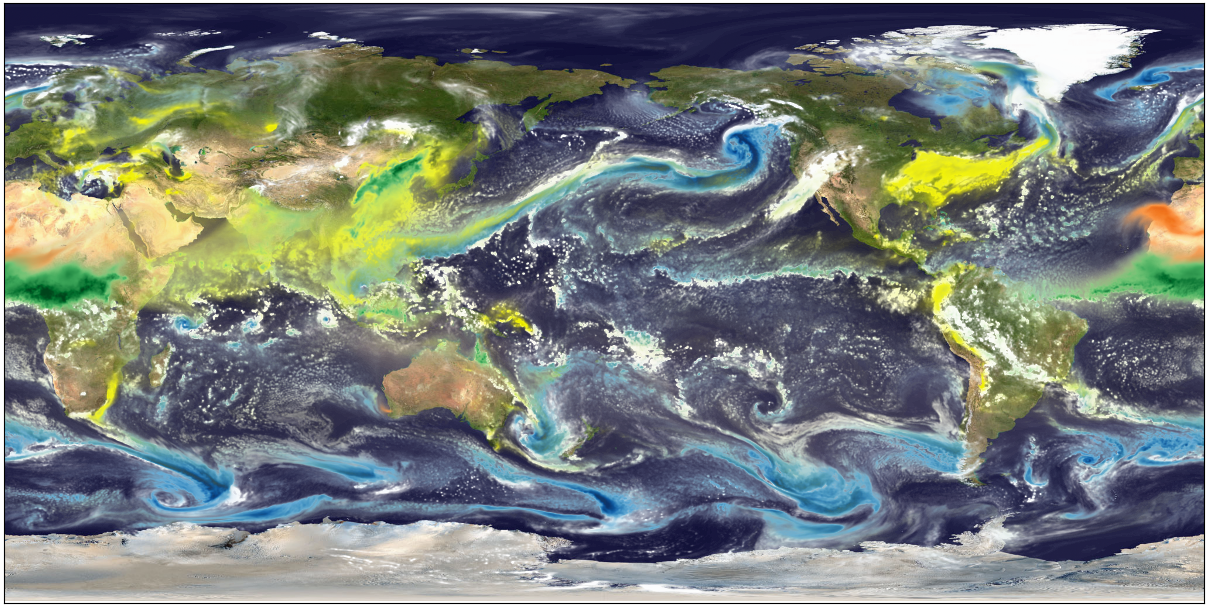 Global distribution of (white) cloud, (yellow) sulfate aerosol, (blue) sea salt aerosol, (green) carbonaceous aerosol, and (orange) dust simulated by global cloud system resolving model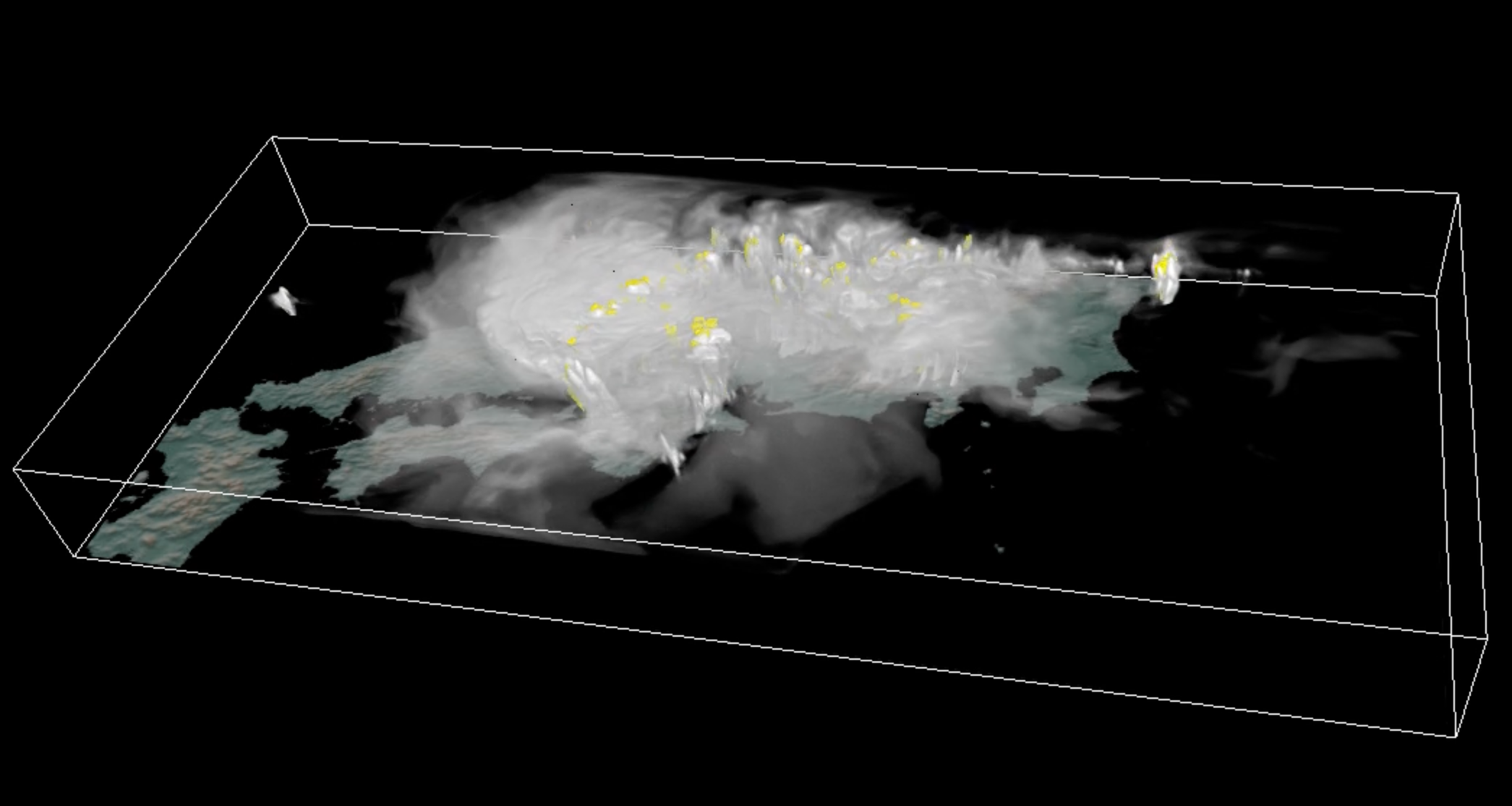 An example of the distribution of cloud (white) and lightning (yellow) simulated by a bulk lightning model
Representative Achievements
Difference in the lightning frequency between the July 2018 heavy rainfall event over central Japan and the 2017 northern Kyushu heavy rainfall event in Japan,
Y. Sato, S. Hayashi, and A. Hashimoto,
Atmo. Sci. Lett., 23(1), doi:10.1002/asl.1067 (2022)
Lightning Frequency in an Idealized Hurricane-Like Vortex from Initial to Steady-State Using a Coupled Meteorological and Explicit Bulk Lightning Model,
Y. Sato, Y. Miyamoto and H. Tomita,
Mon. Wea. 149, 753-771, (2021)
Aerosol effects on cloud water amounts were successfully simulated by a global cloud-system resolving model, Y. Sato, D. Goto, T. Michibata, K. Suzuki, T. Takemura, H. Tomita, and T. Nakajima, Nature Communications, 9, 985 (2018).
Unrealistically pristine air in the Arctic produced by current global scale models, Y. Sato, H. Miura, H. Yashiro, D. Goto, T. Takemura, H. Tomita, and T. Nakajima, Scientific Reports, 6, 26561 (2016)
Impacts of cloud microphysics on trade wind cumulus: which cloud microphysics processes contribute to the diversity in a large eddy simulation?, Y. Sato, S. Nishizawa, H. Yashiro, Y. Miyamoto, Y. Kajikawa, and H. Tomita, Prog. Earth Planet. Sci., 2(23) (2015)
Academic degree

Ph. D.

Self Introduction

My research field is meteorology, especially cloud, aerosol, lightning, and their effect on the human life. Befor I come to Hokkaido, I lived in Chubu (near Nagoya), Kantou (Chiba Pref.), Kansai (Kobe Pref.).

Academic background
2006: B.A. Nagoya University, Department of Science (in Physics)
2008: M.S. University of Tokyo, Department of Earth and Planetary Sciences
Apr. 2008- Mar. 2009: East Japan Railway Company
2012: Sci. PhD. University of Tokyo, Department of Earch and Planetary Sciences
Apr.2010 - Mar.2012: Research Fellow of the Japan Society for the Promption of Science(DC2)
Oct.2010 - Dec.2010: Visiting Researcher, National Center for Atmospheric Research, USA
Apr.2012 - Mar.2015: Post-doctoral fellow, RIKEN Advanced Institute for Computational Science, Computational Climate Science Research Team
Apr.2015 - Apr.2017: Special Post-doctoral fellow, RIKEN Advanced Institute for Computational Science, Computational Climate Science Research Team
Apr.2013 - Mar.2017: Visiting Associate Professor, University of Hyogo, Graduated School of Simulation Study
Apr.2013 - Mar.2017: Visiting Researcher, Meteorological Research Institute, Atmospheric Environment and Applied Meteorology Research Department May 2017 - Present: Visiting Researcher, RIKEN Center for Computational Science, Computational Climate Science Research Team
May 2017 - Mar.2019: Assistant Professor, Department of Applied Energy, Graduate school of Engineering, Nagoya University
Apr.2019 - Present: Associate Professor, Faculty of Science, Department of Earth and Planetary Sciences, Research Field of Hokkaido Weather Forecast and Technology Development (Endowed by Hokkaido Weather Technology Center Co. Ltd.), Hokkaido University
Affiliated academic society

Japan Meteorological Society,

Japan Geoscience Union

Project
Large Ensemble Atmospheric and Environmental Prediction for Disaster Prevention and Mitigation
Room address

Science Building 8 8-216