WAKEMAN, Kevin

Assistant Professor
Marine apicomplexan and dinoflagellate (alveolate) diversity and evolution
Protistology
Biodiversity; Microscopy
Genetics
Phylogenomics
Transcriptomics
Toxicity
Symbiosis
I study the diversity and evolution of a broad range of organisms, generally referred to as protists (single-celled eukaryotes). Up to this point, I have primarily studied organisms living in marine environments, in areas of the Eastern Pacific Ocean, near Canada, as well as the Western Pacific waters around Japan (Okinawa, Tokyo, and Hokkaido).
My interests have mostly revolved around apicomplexan parasites of invertebrates. The particular assemblage of apicomplexan parasites I study are referred to as gregarines; they are some of the earliest lineages, if not the earliest lineage, of apicomplexans. They parasitize invertebrates such as polychaetes (marine worms), crustaceans (e.g., crabs and shrimp), and tunicates (just to name a few). Other lineages of marine apicomplexans also infect invertebrate groups such as coral and mussels (shellfish). Overall, by improving our knowledge of the biodiversity of marine apicomplexans, and investigating the relationships they have with each other and their host groups, it is my goal to fundamentally transform and enhance how evolution is viewed within this group.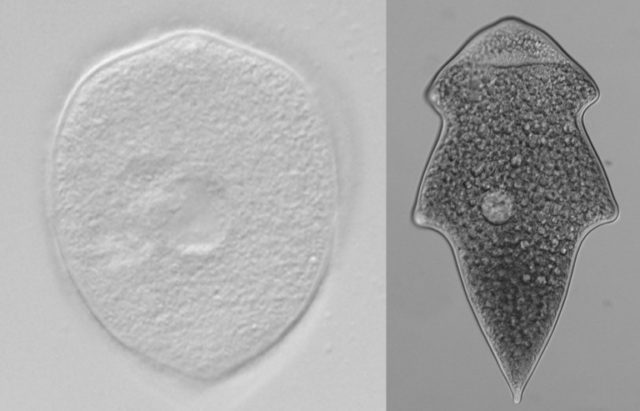 More recently, I have started to study benthic marine dinoflagellates (microalgae), their diversity and production of toxin compounds. I am particularly interested in the diversity of dinoflagellates in warmer waters, especially those around the subtropical island of Okinawa, Japan. This work involves the mass cultivation of microalgae, and has some chemical elements such as High-pressure liquid chromatography-mass spectrometry (HPLC-MS).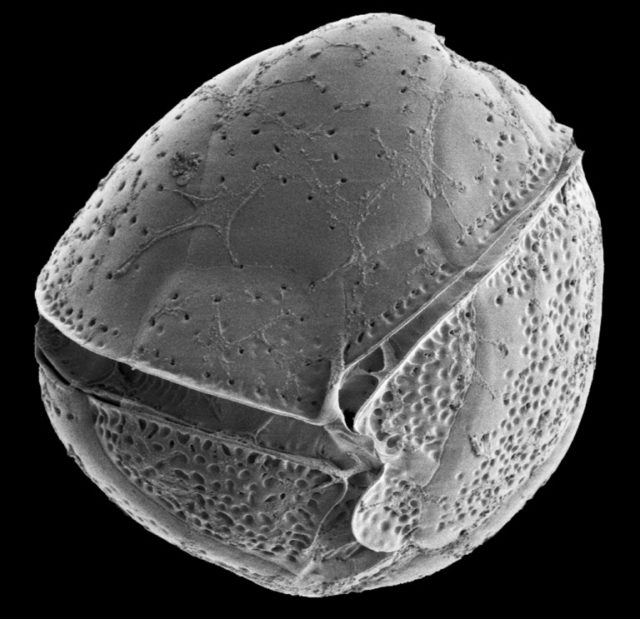 My research employs a wide-range of tools and techniques including molecular phylogenetics and microscopy, biochemistry, and the cultivation of organisms. This research examines organisms from relative shallow water by SCUBA diving/snorkeling, all the way to the deep sea, for which exotic deep-sea submersibles are used.

Students are always welcome and encouraged to participate in this research. I think students from various backgrounds/interests will have no problem finding a theme that inspires them (e.g., genetics, chemistry, SCUBA diving, microscopy etc.). I am personally intrigued by the diversity exhibited in nature, especially those organisms living in the ocean. And so, I encourage students to spend lots of time exploring the marine environment to find something that they can uniquely 'own'.
References
Wakeman, K.C., Yamaguchi, A., Roy, M.C. and Jenke-Kodama, H. (2015) Morphology, phylogeny and novel chemical compounds from C. malayensis (Dinophyceae) from Okinawa, Japan. Harmful Algae. 44:8-19.
Rueckert, S., Wakeman, K.C., Jenke-Kodama, H. and Leander, B.S. (2015) Molecular systematics of marine gregarine apicomplexans from Pacific tunicates, with descriptions of five new species of Lankesteria. Int. J. Syst. Evol. Biol. 65:2598-2614.
Wakeman, K.C., Heintzelman, M.B. and Leander, B.S. (2014) Comparative ultrastructure and molecular phylogeny of two sister species, Selenidium melongena nov. sp. and Selenidium terebellae Ray 1930 demonstrate niche partitioning in marine gregarine parasites. Protist. 165:493-511.
Wakeman, K.C., Reimer, J.D., Jenke-Kodama, H. and Leander, B.S. (2014) Molecular phylogeny and ultrastructure of Caliculium glossobalani n. gen. et sp. (Apicomplexa) from a Pacific Glossobalanus minutus (hemichordata) confounds the relationships between marine and terrestrial gregarines. J. Eukaryot. Microbiol. 61:343-353.
Wakeman, K.C. and Leander, B.S. (2013) Molecular phylogeny of marine gregarine parasites (Apicomplexa) from tube-forming polychaetes (Sabellariidae, Cirratulidae and Serpulidae), including descriptions of four new species of Selenidium. J. Eukaryot. Microbiol. 43:133-147.
Wakeman, K.C. and Leander, B.S. (2013) Identity of environmental DNA sequences using descriptions of four novel marine gregarine parasites, Polyplicarium n. gen. (Apicomplexa), from capitellids polychaetes. Marine Biodiversity. 43:133-147.
Rueckert, S., Wakeman, K.C. and Leander B.S. (2013) Discovery of a diverse clade of gregarine apicomplexans from Pacific eunicid polychaetes, including descriptions of Paralecudina gen. n., Trichotokara japonica sp. n., and T. eunicae sp. n. J. Eukaryot. Microbiol. 60:121-136.
Wakeman, K.C. and Leander, B.S. (2012) Molecular phylogeny of Pacific archigregarines (Apicomplexa), including descriptions of Velloxidium leptosynaptae n. gen. et sp. from the sea cucumber Leptosynapta clarki (Echinodermata) and two new species of Selenidium. J. Eukaryot. Microbiol. 59:232-245.
Website
Faculty
Institute for International Collaboration
Grad School
Graduate School of Science
Department of Natural History Sciences
Contact Information
Faculty of Science, Building #5 5-610
Email: wakeman.k
oia.hokudai.ac.jp