NAKAOKA, Masahiro

Professor
coastal ecosystem
biodiversity
ecosystem function
seagrass
long-term research
Population and community dynamics of marine organisms and ecosystems under global environmental changes: Marine ecosystems are now facing multiple human-induced stresses. For their conservation and sustainable use, we need to integrate our knowledge on marine ecosystem obtained by various approaches. Research in our lab is specially targeted on understanding biodiversity patterns and ecosystem dynamics of coastal areas by combining different disciplines of ecology and environmental science, such as long-term field monitoring, manipulative experiment in the field and in the laboratory, molecular genetic approach and remote sensing/GIS analyses.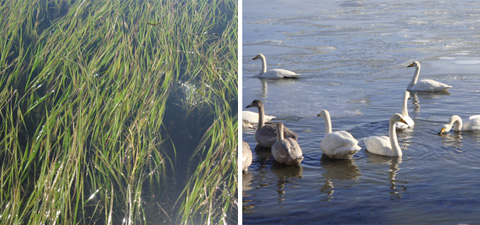 Eelgrass (Zostera marina; left photograph) is one of the most dominant marine plant in coastal areas of Japan. It covers 70% of Akkeshi-ko estuary, supporting a wide variety of associated plants and animals. Whooper swans (Cygnus cygnus; right photograph), which visit Akkeshi in winter, are major consumer of eelgrass.
I am welcome undergraduate and graduate students who are willing to study this important subject with me in a pristine coastal environment of Akkeshi, Eastern Hokkaido.
References
Aioi, K. and Nakaoka, M. (2003) Seagrasses of Japan. In, Green, E.P. and Short, F.T., editors, World Atlas of Seagrasses. University of California Press, Berkeley, USA, pp. 185-192
Yamada, K., Hori, M., Nakaoka, M. and Hamaguchi M. (2010) Temporal and spatial variations in functional-trait composition (functional diversity) of macrocrustacean communities in seagrass meadows. New Frontiers in Crustacean Biology (Koninklijke Brill NV, Leiden): 325-339
Tanaka, N., Demise, T., Ishii, M., Shoji, Y. and Nakaoka, M. (2011) Genetic structure and gene flow of eelgrass Zostera marina populations in Tokyo Bay, Japan: implications for their restoration.Marine Biology 158: 871-882
Yamakita, T., Wanatabe, K. and Nakaoka, M. (2011) Asynchronous local dynamics contributes to stability of a seagrass bed in Tokyo Bay. Ecography 34: 519-528
Kubicek, A., Bessho, K., Nakaoka, M., Wahl, M. and Lenz M. (2011) Inducible defence and its modulation by environmental stress in the red alga Chondrus yendoi (Yamada and Mikami, 1965) from Honshu Island, Japan. Journal of Experimental Marine Biology and Ecology397: 203-213
Wahl, M., Link, H., Alexandridis, N., Thomason, J. C., Cifuentes, M., Costello, M. J., da Gama, B. A. P., Hillock, K., Hobday, A. J., Kaufmann, M. J., Keller, S., Kraufvelin, P., Kruger, I., Lauterbach, L., Antunes, B. L., Molis, M., Nakaoka, M., Nyström, J., bin Radzi, Z., Stockhausen, B., Thiel, M., Vance, T., Weseloh, A., Whittle, M., Wiesmann, L., Wunderer, L., Yamakita, T. and Lenz, M. (2011) Re-structuring of marine communities exposed to environmental change: a global study on the interactive effects of species and functional richness. PLoS ONE 6(5): e19514. doi:10.1371/journal.pone.0019514
Faculty
Field Science Center for Northern Biosphere
Grad School
Graduate School of Environmental Science
Division of Biosphere Science
Contact Information
Email: nakaoka
fsc.hokudai.ac.jp